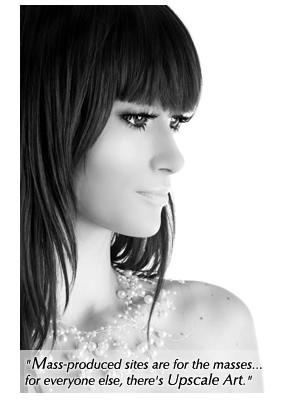 Thank you for visiting our website! My name is Jacqueline, I'm an artist, and web design just happens to be my specialty ;) I especially love working with models, because I enjoy the challenge of creating something eye-catching and sexy, while keeping it classy and upscale.

Yes, I run a business, but I view every website and graphic I produce as an art piece, not just as a work order to be filled. I'm serious about what I do, and I don't put my name on anything that looks cheap or cheesy.

The result is that my clients always stand out from the crowd, and they tend to do quite well even in the most competitive markets.





I put a lot of love and attention to detail into everything I create. I'm aware of the value of what I do, and my rates reflect what I feel my time and creativity are worth.

If you're shopping around trying to find the website package that gives you the most pages, bells, and whistles for the cheapest price, I'm probably not for you.

But if you're looking for something a little different from the rest, and you're interested in seeing what I can do to improve your business, I invite you to browse through the following pages, then drop us a line through our Contact page, and let's discuss the possibilities...


Looking forward to hearing from you!